After herroic period of pandemic back to normal life.Arrival of fresh spring summer 2023 filled with fun ,joy,peace.
That being said, lets jump into all the trends that are hot right now and will keep you looking fly through this season and beyond – as curated by our stylists.
1. THE COLOURS TO WATCH OUT FOR
For Spring summer, you want to be inclusive of vivid colours like YELLOWS, GREENS & BLUES. Colours like cool grey, red earth, beige and purple are what you need to add a little more of to your wardrobe. However, once you've made these your base tones, feel free to add pops of mint, turmeric yellow and gold (always) to add a fun accent to your #ootd.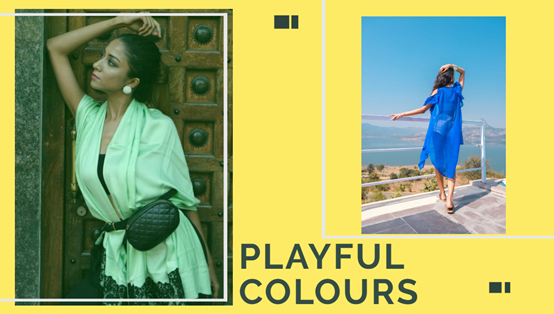 2. SILHOUETTES THIS SEASON
For this summer, Suit – up yourself whether it is a corporate meeting, a Sunday brunch or a Cocktail party. Suits are a complete yay-yay for this season that has a bright (really bright) colour co ordinate blazer and a loose fit trouser or pants.Dont forget to team this up with the classic blacks,nudes,whites and beiges.
Accessories are going to be the main play this time whether it is fancy head bands (turbans), textures scarves, printed stoles, bandanas, Silk or Satin squares or jewellery. Don't forget to be MINIMAL with the jewellery though.
O-la-la! Who is not a fan of exotic, messy hair-do's. Well, this spring is going to be all about braids, whether its an open hairstyle or a pony. So don't forget to inculcate a braid this season and you wont go wrong!!